As October is coming to a close, we want start off first by thanking all those who made our first month with the new website a great one. We managed to sell over 20 plows, covering 12 states! We also sold parts all throughout the U.S. It was a huge success and we have none other to thank then you the customer. That being said, for all those who are on the fence about buying a snow plow, you better pull the trigger soon. After last year's harsh winter, snowplows are selling faster than ever. We still have Western snow plows in stock as well as Boss and SnowDogg. Be sure to give us a call before to make sure we have it in stock.
We are still shipping out 99% of parts orders in the same day. We understand that time is money and you need your parts as soon as possible. Our goal is to help make that happen for you by doing whatever it take to get your order out that same day. Even if it means hunting down our UPS driver throughout town to get your package on! This will continue to be our goal throughout the entire winter season no matter how much snow if falling.
I was checking out AccuWeather.com today and came across an interesting weather forecast for this weekend in the Northeast. Believe it or not they are calling for possibly Halloween snow accumulation. Don't believe me? Here's the map to prove it!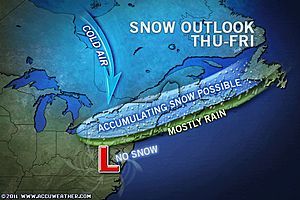 I can be pretty sure that the main cities, Philly, NYC & Boston will only get rain, but for the places further north, it can very well mean some Trick or Treat snow. All the more reason to visit gotplowparts.com and stock up on necessary snowplow parts before we get some real storms come through.
We are coming up on our 1 year anniversary of Gotplowparts.com , and to celebrate, we are going to be offering some great specials and discounts on many products. It will be sometime around November so stay tuned. It would only be for those who register so if you haven't done so yet, please register and you will be informed of the soon to be discounts.
Thanks all for checking in to GPP. Talk to you all again soon!
Have a comment to share? Like the article? Just click on comment button below to let us know what you think